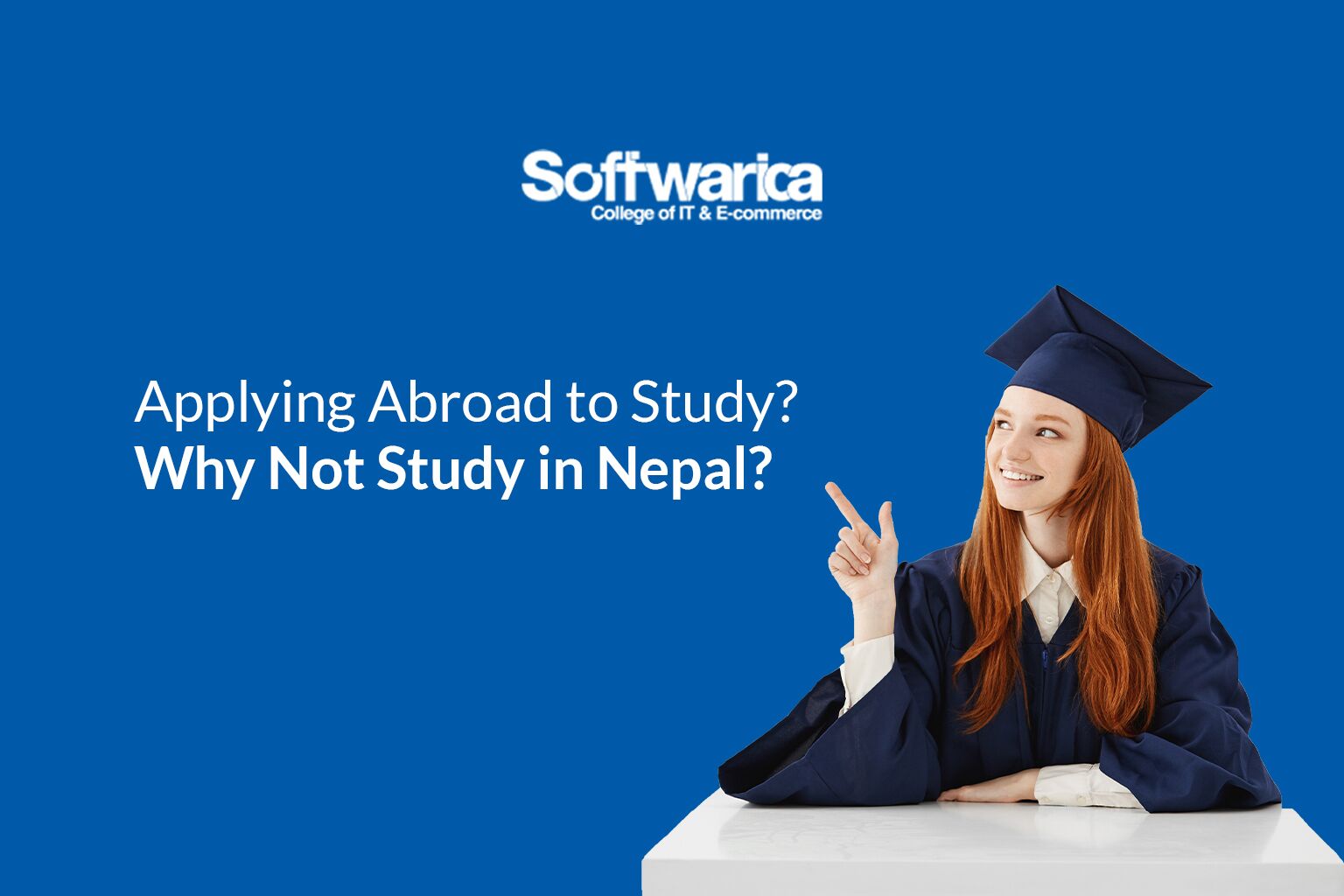 Confused whether to study in Nepal or apply for foreign universities abroad? You are not alone here. Many Nepali students face hard time deciding the colleges or universities for their higher education. So, why do you want to pursue your degrees in countries like the UK, USA, Australia, etc? Is it because all your friends are studying and living abroad or because you want to achieve a degree from internationally recognized university abroad? If your answer is the second one, why not study in Nepal and achieve a degree from an international university?
Studying in a foreign country as an international student is very challenging. The very first thing being staying away from your friends and family. Also, the tuition fees and living cost will definitely be expensive as you'll have to pay in dollars or the currency of the country you are studying in. Working to earn your expenses while studying is another challenge faced by Nepali students studying abroad. Now, what if you could study in Nepal being in your own comfort zone and earn an international degree from international universities? The following sections in this blog will help you understand the perks of studying in Nepal.
Is it Better to Study Abroad or to Study in your Own Country?
While deciding to apply for foreign universities, you must have assessed the benefits and drawbacks of studying abroad and studying in Nepal. The challenges of studying abroad seems less difficult until you get there and start your student life. Students especially choose to study abroad because of the quality of education and exposure in terms of real-life challenges. Also, with a certificate from a foreign university, they might have better job opportunities anywhere in the world.
In case of Nepali students, it is seen that many of them focus on earning due to weak financial status of their family in Nepal. But they miss to consider that they have spent thousands of dollars to get there. It will definitely be wiser to study in Nepal itself in a college that is affiliated with a foreign university. This would definitely save a lot of money.
Understanding the demand for foreign university degrees by Nepali students, various colleges in Nepal have affiliated with some of the best foreign universities. Here, the curriculum of that particular university is taught in Nepal and the students are awarded with the degree of the foreign university they are affiliated with. Isn't this awesome? What's better than being able to study and earn an international degree while studying in Nepal and that too at relatively cheaper costs? In addition, if you study in Nepal, you'll not have the bear expensive tuition fees, living and accommodation expenses. Even if you have to bear it, it will be very much cheaper. This is why, it is always a better choice to study in your own country rather than studying abroad.
How Difficult is Studying Abroad?
The entire process of studying abroad is difficult ranging from deciding the country where you want to study to the visa application process. This is very time-consuming and troublesome as well. Also, after the COVID-19 pandemic, the visa policy for international students has been more tough than ever before. There is no certainty of approval of student visa. Even if you get through the visa process, life as an international student is not easy as imagined. Even though English is our second language, many Nepali students feel language barrier abroad. This is because of the difference in the tone, accent, etc.
Apart from these, do you know which is the most difficult part of studying abroad? The answer is working while you study. Many students find it very difficult to balance their studies, assignment and work. Since Nepali students are compelled to work in order to cover their living and accommodation expenses, it becomes very difficult for them to cope up with their studies.
What are the Advantages and Disadvantages of Studying Abroad?
By now you must have been familiar with some of the advantages and disadvantages of studying abroad. Here, we will provide you an in-depth analysis so that you can make the best choice for yourself:
Advantages of Studying Abroad
You'll get to study and work in a culturally diverse environment as the students in the class will be comprised of different nationals. Interacting with them will help you get to know and understand different cultures.
You will also get a chance to broaden your personal experiences and also get out of your comfort zone. One of the best experiences would be gaining valuable life skills such as learning to live independently and manage daily activities like budgeting, shopping, cleaning, etc.
Having an international education degree will also contribute to your job prospects. Students with international degrees are preferred by top countries around the world. So, all your hard work will pay off when you successfully obtain an international degree.
Disadvantages of Studying Abroad
Many international students experience cultural shock while studying in any foreign country. This is because each country has a different culture and it takes time to sync into that culture.
One of the major disadvantages of studying abroad is staying away from your friends and family. Many students experience homesickness in the few months of their abroad study. UNESCO reported that in 2019, 1 million foreign students studied in the UnS. Among these students, 92% say that they miss the familiarities of home while studying overseas, with 57% saying it is the sensory experience they miss most, while 74% specifying they miss the sounds of their hometown.
Financial difficulty is another major challenge faced by international students studying in foreign countries. It is not an easy task to pay in dollars, especially when you need to earn and take care of yourself. Tuition fees are obviously expensive compared to the colleges and universities in your home town. Even if you get scholarship, you'll have to earn and pay for your living and accommodation expenses.
Is Nepal a good country to study?
When it comes to study, Nepal houses some of the best colleges and universities. Also, studying in your own country is always a better option. In the past decades, the education system in Nepal has undergone massive improvements. Various international courses have been included in the university level curriculum. Also, the number of highly experienced teachers is increasing. Companies in Nepal are preferring graduates from Nepal for various job positions offering attractive salaries and benefits.
In addition, various colleges in Nepal have been providing international degrees by affiliating with foreign universities. Isn't it great to be able to complete a foreign degree from Nepal? This is not only convenient for Nepali students but is also relatively cheaper and students won't have to go through the challenges of studying abroad.
Which study is best in Nepal?
If you want to earn a foreign degree, but don't want to travel abroad, Softwarica College is your ultimate solution. Softwarica College is working in collaboration with Coventry University to offer a range of undergraduate programmes. Coventry ranks 15 th in the UK in the Guardian University Guide 2020. It also earned the title 'University of the Year for Student Experience' in the 2019 Times and Sunday Times Good University Guide; the guide describes it as "one of the most innovative modern universities, bold with its vision of what the 21 st century student experience should be".
On successful completion students will receive Coventry University degree award. Some of the programmes offered by the college are BSc(Hons) Computing, BSc(Hons) Ethical Hacking & Cyber Security and MSc Data Science and Computational Intelligence.
So, if you want to study in Nepal and obtain an international degree, then Softwarica College is here for you!