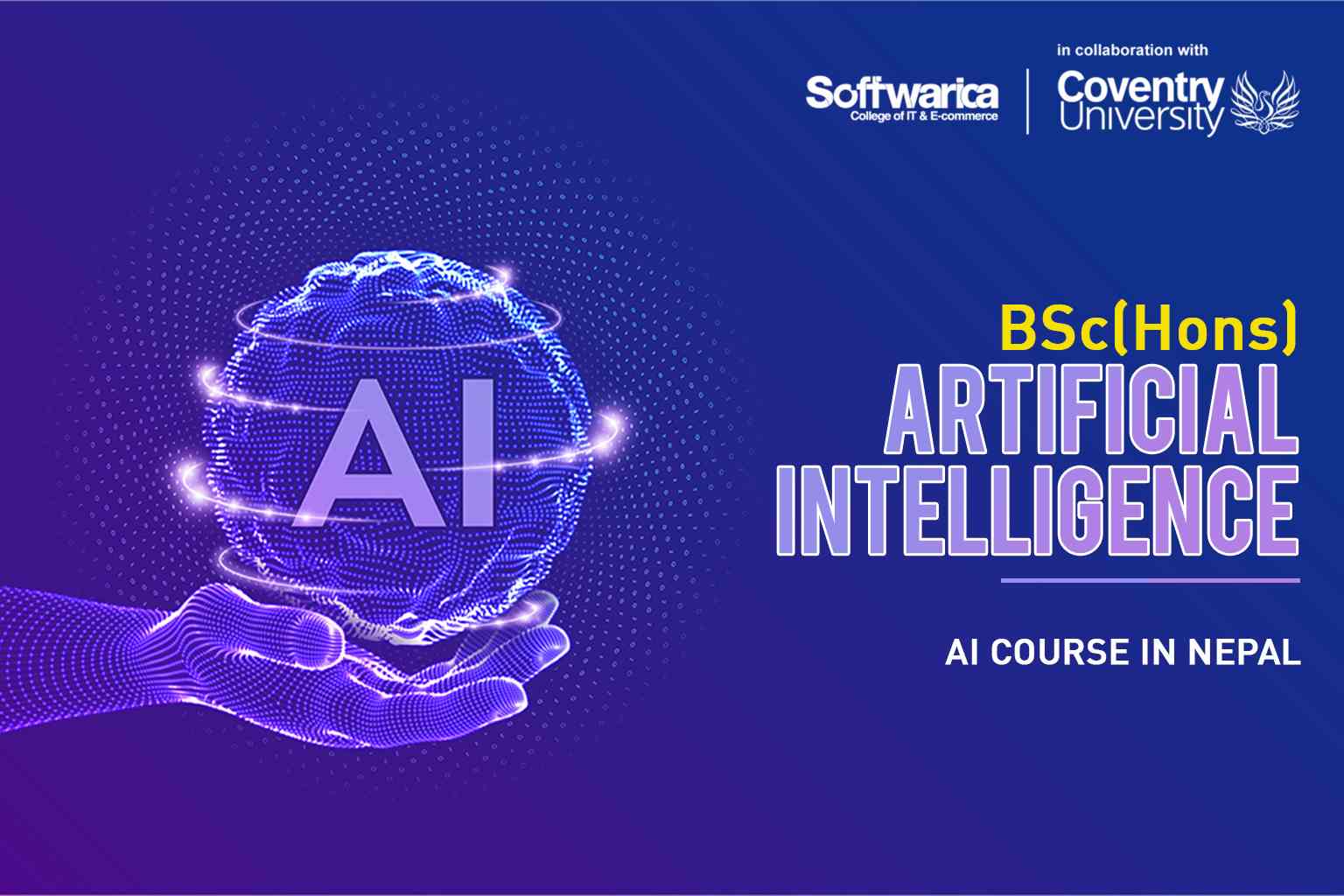 As the Artificial intelligence (AI) technique development is increasing at a fast pace, large-scale computing infrastructure and the exploitation of big data is being pushed forward on all fronts. Artificial Intelligence plays an ever-increasing role in solving complex problems in different aspects of our society, from economics to business, and from medicine to education. The advancement of AI has led to a growing number of students choosing the BSc Hons Artificial Intelligence Course in Nepal.
AI degree courses immerse students in an exciting and innovative environment so that they can develop theoretical knowledge, technical knowledge and essential skills to start a great AI career in Nepal with highly paid AI engineer jobs. Let's dig deeper into BSc (Hons) Artificial Intelligence Course in Nepal, and find out its benefits and career opportunities. Stay tuned.
What is BSc Hons Artificial Intelligence?
BSc Hons Artificial Intelligence is an IT degree that is combined with inventive computer science fundamentals, computer programming, critical reasoning, data analysis, and machine learning. It provides you with a firm footing in data handling, theoretical knowledge and technical skills to work on cutting-edge technology.
Moreover, the AI programme in Nepal champions the professional values to use the immense power of modern analytics, and an appreciation of the issues embedded throughout. One with an artificial intelligence degree in Nepal is equipped with transferable skills and is proficient enough to derive insight using technical methods and algorithms.
Why Study BSc Hons Artificial Intelligence Course?
With the rise in computer processing power, Artificial intelligence technology is being more in-demand as it provides techniques at the forefront to help society solve some of our greatest challenges. From diagnosing cancers to digitising historical archives, and from supporting driverless cars to designing new medicines, the possible applications of Artificial Intelligence are endless. Below are listed the top 5 reasons to study BSc Hons Artificial Intelligence Course.
Artificial Intelligence is at its peak stage right now and almost every company is looking into AI for their operation. At this time, pursuing a career in AI not only assures you a decent salary but also promising you reputed career opportunities in Artificial Intelligence. One with an AI degree in Nepal have variety of career options to choose – business intelligence developer, research engineer, machine learning engineer, software engineer, data scientist, and more.
High Scope of Artificial Intelligence
Studying BSc Hons Artificial Intelligence course opens up a range of opportunities to develop unique technologies in diverse sectors including computer protection, image recognition, face recognition, pharmacy, and more. An AI degree in Nepal introduces you to exciting career prospects and never fails to deliver the results. As AI impact a variety of industries, AI course has become mandatory to study.
BSc (Hons) Artificial Intelligence course has everything to stand out from the crowd. The term AI generally draws our minds to computer or IT industries but it has a much wider role in various other industries such as mobile, healthcare, education, banking, and clothing. Its versatality is another major reason why Artificial Intelligence course is being more popular among Nepalese students.
Another benefit of learning Artificial Intelligence is that it allows you to flourish your network globally. One in the AI field can collaborate with IT professionals worldwide. You can connect with people through seminars, group projects, and discussion forums and discuss similar challenges you are going through. It enriches your work expertise and provides you with a deeper understanding of Artificial Intelligence. Connecting with AI experts helps you secure higher marks in assignments.
Artificial intelligence is crucial for the betterment of society as its implementation has the potential to bring revolutionary changes and makes life easier. For instance, thanks to Artificial Intelligence, healthcare departments have become automated with which doctors have become capable of making critical decisions swiftly, and saving lives. Another good thing about AI in the healthcare industry is that it helps in quick insurance processing and billing to render in more convenience manner. Another good reason could be of governments who are implementing AI to make smart cities, whether it's through environmental planning improvement, crime prevention, or better resource management.
Career Opportunities in Artificial Intelligence
A graduate with a BSc Hons Artificial Intelligence degree can ideally take up various jobs in AI including in data and financial analysis, business intelligence, data support and other relevant positions. According to a report from the World Economic Forum (WEF), Artificial Intelligence is estimated to create more than 58 million jobs in the coming years. Below are the top 5 scope of Artificial Intelligence that are usually on trend after BSc Hons Artificial Intelligence degree in Nepal.
AI Engineer
AI engineer jobs are one of the most sought-after career option after BSc Hons Artificial Intelligence course in Nepal. They create and test different AI models to find loopholes using various machine level algorithms. They a strong grasp in statistics, NLP, mathematics, and analytics. AI engineers are responsible for handling AI infrastructure and get business insights with AI models to help a company make effective business decisions.
AI Data Analyst
You can pursue a career as an AI data analyst after completing your BSc hons Artificial Intelligence programme in Nepal. AI data analyst are responsible for data mining and data cleaning. They analyze the collected data using statistical tools and methods and interpret them to help the organization making the best business decisions. They discard the useless data that hampers the data interpretation process.
Machine Learning Engineer
Machine learning engineering is another best future scope of artificial intelligence course. Machine Learning Engineers are at the intersection of software engineering and data science, and they are majorly responsible for creating techniques for machines to communicate with humans and vice versa, through programming languages such as Java, Python, and C++. They build and maintaining self-running software and promote machine learning initiatives.
Business Intelligence Developer
Business Intelligence development is another great career option you can start with after BSc hons AI course in Nepal. Business intelligence developers are responsible for processing complex internal and external data to identify trends, and maintaining BI tools and interfaces. Using simulated data, they provide with calculated solutions to the issues and problems of an organization. BI developers play a vital role in escalating the profit margin of a company without compromising the efficiency.
Big Data Engineer
Big Data Engineering provides you with and amazing growth in Artificial Intelligence. The primary responsibility of data engineers is to build an ecosystem to administer the big data of a company to interact efficiently. As a big data engineer, you will have to deal with preparing, managing, and establishing a big data environment. Big data engineer jobs are for those who are best at using new technical tools and programming languages such as Python, R and Java.
BSc Hons Artificial Intelligence Programme at Softwarica
Starting a career in Artificial Intelligence begins with choosing a BSc (Hons) Artificial Intelligence Course in Nepal. Studying the BSc Hons Artificial Intelligence programme at Softwarica could be a life-changing decision for you. Our BSc Hons Artificial Intelligence course aims to prepare you for meeting the demand for AI programmers and AI developers in Nepal. The course provides you with transferable skills to conduct world-leading research in a range of areas such as evolutionary computation, intelligent inhabited environments, brain-computer interfacing, robotics, and financial forecasting.
With our Artificial Intelligence programme in Nepal, you obtain comprehensive learning about AI models, algorithms, and systems. Our AI course allows you to take specialist modules to pursue your own interests so that you can equip with the essential knowledge of computer science and understand the theoretical and practical aspects of Artificial Intelligence.
BSc Hons Artificial Intelligence course at Softwarica contains broad coverage of the major computer science topics with specialist modules in artificial intelligence, taught by experienced academics. Our large networking laboratory provides you with opportunities to design and administer networks and support the computer architecture modules delivery.
Choosing to study Artificial Intelligence at Softwarica means you are extending your education beyond the university campus. Affiliated with Coventry University, Softwarica college provides you with a higher chance of securing better career opportunities in Artificial Intelligence. Connect with Softwarica and start your career in Artificial intelligence now.
Frequently Asked Questions (FAQs)
Is BSc Hons artificial intelligence a good career option?
BSc Hons Artificial Intelligence provides you with lucrative job opportunities in diverse fields such as financial analysis, business intelligence, and data support. The job opportunities it provides make BSc Hons artificial intelligence a good career option.
Which job has the highest salary in AI?
AI engineering is one of the highest-paid jobs in Artificial Intelligence. The salary of an AI engineer ranges from NPR 10,00,000 to NPR 40,00,000. An entry-level annual AI engineer makes up to NPR 10,00,000 while one in a higher position can make up to NPR 40,00,000.
Is AI a hard career?
It really depends on you. AI may be a hard career but with the right resources and skill sets, you can make a place for yourself in the artificial intelligence industry.
What job will I get if I study BSc Hons artificial intelligence?
One with a BSc hons artificial intelligence degree can get AI jobs in diverse fields. They can become AI engineers, AI Data Analysts, ML Engineers, BI Developers, Big Data Engineers and more.
Are artificial intelligence jobs in demand?
With the rise in computer processing power, Artificial intelligence jobs have become more in demand. Companies from almost every field are looking for an AI expert nowadays to make their businesses perform better.