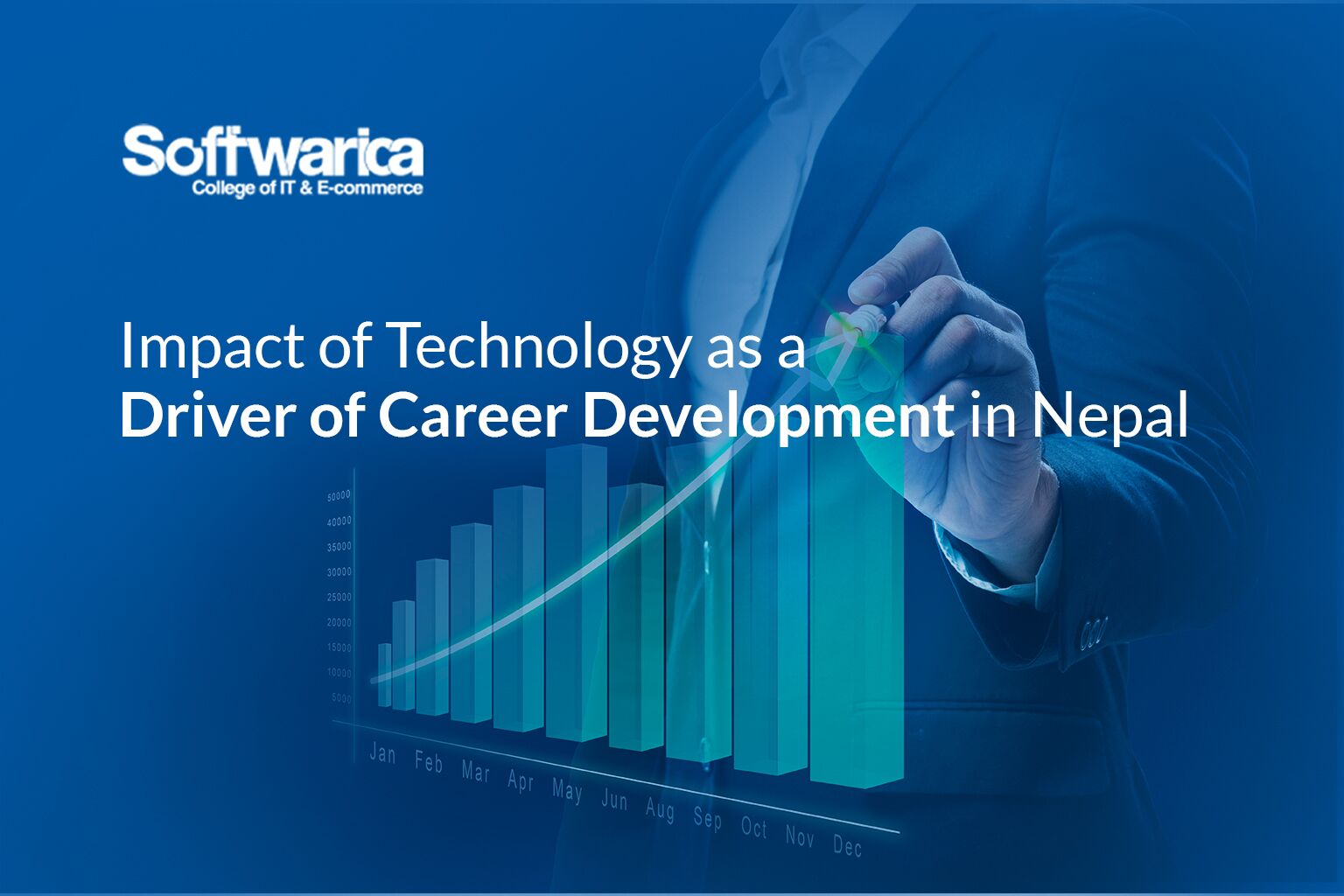 Technology has always been a boon to mankind. It has changed the way the world operates. The impact of the revolution in technology has been on all sectors ranging from production to service-related industry. Likewise, the impact of technology is seen in career development as well. With the development in technology, the workforce is demanded to function very differently as compared to past decades.
Technology has also cut down many traditional jobs. For example, the introduction of ATMs replaced bank jobs. Also, technologies like automation and artificial intelligence have been posing threat to many jobs.
The human resource industry in Nepal has seen a massive impact of technology on career development in Nepal. Technology and careers are seen to be very closely related to each other. Talking about the positive effects of technology, we can see how the work process has been simplified with increasing efficiency and effectiveness.
Impact of Technology as a Driver of Career Development in Nepal
In this blog, we will be talking about the positive effects of technology and the impact of technology as a driver of career development in Nepal. In developed countries like Nepal, most of the work is done manually and the job sector is dependent on semi-skilled workers. With everything shifted from manual work to computerization, older generations are finding it difficult to cope with the fast-paced job market. However, realizing the benefits of technology in career development in Nepal, the human resource workforce is seen to be adapting to it.
How has technology influenced the growth of every career path?
Advancement in technology has placed both challenges and opportunities in the job industry. Technology and its components change almost on a daily basis today. With this, the dynamics of the job have changed as well. New career and job opportunities have also evolved as the impact of technology on careers. If we talk about the scenario of countries like Nepal, the COVID-19 pandemic can be taken as a major booster for technological development in Nepal. Despite being a country with limited access to technology, Nepal was successful in coping with the challenging situation where people were forced to work from home. a
åWith new job opportunities created due to technology, it has majorly influenced the growth of every career path. People are forced to learn new skills and competencies to keep themselves up-to-date with the job market. Thanks to technology, today people can work from anywhere around the world without being physically present at the office.
How Technology Has Modified Work Nature And Worker Skill Requirements
The nature of work and worker skill requirement is very different today than they used to be. Today, the workplace very much demands technological competence and is more mobile while being less dependent on geography. Also, the workforce today finds themselves working under competitive pressures and technological breakthroughs. The complexity of work has also been changing accordingly. Today, the workforce needs to know how the work efficiently rather than just perform their jobs. Although demand for high cognitive skills is especially prominent in professional, technical, and managerial jobs, even administrative tasks require more independent decision-making and operational decision-making.
How Different Jobs Have Been Affected by Technology
No job sector has been left unaffected by the impact of technology. Technology has not just changed the way people work. It has hugely impacted the office culture as well. Of course, the impact is positive! Today, most companies have adopted to work from home culture and some companies are seen to be offering incentives to get their employees to come to work. Also, there has been increasing in freelancing jobs. Many people prefer this as they don't have to be committed to a certain company.
So, what are some of the instances that explain how different jobs have been affected by technology? One of the best impacts of technology is the creation of jobs. While some people think that technology replaces their jobs, the other section sees it as a boon that created a career path for them. For example, the positive impact of technology has been an increase in the demand for a technically skilled workforce. This has increased the job prospects for educated youths in Nepal.
Similarly, bank jobs have been highly impacted by the development of technology. A computer has been used for data analysis and computing for the past few decades. Today, banks use computer algorithms for various tasks. This is because the error margin becomes zero when the technology does the computation rather than a human.
The telemarketing industry has hugely benefitted from the development in technology. Artificial intelligence products like Chat Bots are being actively used in these industries and are being favoured for their 24/7 assistance.
Also, technologies have the potential to create large-scale jobs in rural areas and hence address the rural unemployment issue.
5 Ways to Use Technology to Enhance Career Development
Being familiar with the positive impacts of technology in the job industry, you might have been interested to shape your career accordingly. Technology can also play a major role in enhancing career development. It will be great if colleges prepare their students for the modern tech industry so that they can adapt to the corporate environment accordingly.
Here, we will discuss 5 ways to use technology to enhance career development:
Teamwork and Team Building Activities
The ability to work with teams is one of the most essential factors required in today's workplace. The importance of teamwork in an organization can be clearly seen in job vacancies. Companies always look for someone who is a team player. Here, one can prepare for their careers by using technology to collaborate amongst themselves. Suggest apps and programs that provide students opportunities to work amongst themselves, share files and collaborate.
Promote Skill Development and Self-Assessment
Participate in programs and activities that will help you understand yourself through self-assessments. This will also help you know about your employability. Various diagnostics tools are available online that will help you determine the field to enter and the job role that perfectly fits you.
Prioritize Digital Literacy
When students start using technology in classrooms, they have a better understanding of the technologies and get familiar with them. Technology is often used as a tool to make education easier, but it can also be a tool to help enhance students in career development.
Exposure to General Learning Experiences
Technology can help students by providing a real-world learning experience as they use social media, wikis and peer-reviewed research to find answers to questions. Let them get familiar with the latest trends and technologies as well.
Develop a Sense of Responsibility
The ability to take responsibility is also one of the most demanded factors in today's job market. Lending devices to students for schoolwork can help them develop a sense of responsibility that will aid them in their careers. It is common for employees to use business-owned laptops and mobile devices, and this will prepare them for using public devices as their own.
Following these activities will definitely help in the career development of the workforce.
Conclusion
If you are looking forward to developing a technology-friendly career in Nepal, you should definitely go for courses provided by Softwarica College. Softwarica College is working in collaboration with Coventry University to offer a range of undergraduate programmes, BSc (Hons) Computing and BSc (Hons) Ethical Hacking & Cybersecurity. On successful completion, students will receive Coventry University degree award.
The mission of the college is to provide their students studying overseas with Softwarica College of IT and e-Commerce with the best possible education coupled with an international educational experience and the employability skills they require to prepare them for the global workplace.
With state-of-the-art computer labs, well-equipped technical and networking labs, a library with an exhaustive collection of books on IT and Business, and local and international experts in teaching faculties, the college is truly an ideal place to hone students' skills and gain an internationally recognized qualification. Do contact us if you are looking for technology courses in Nepal.